Arts Competition 2022 Winners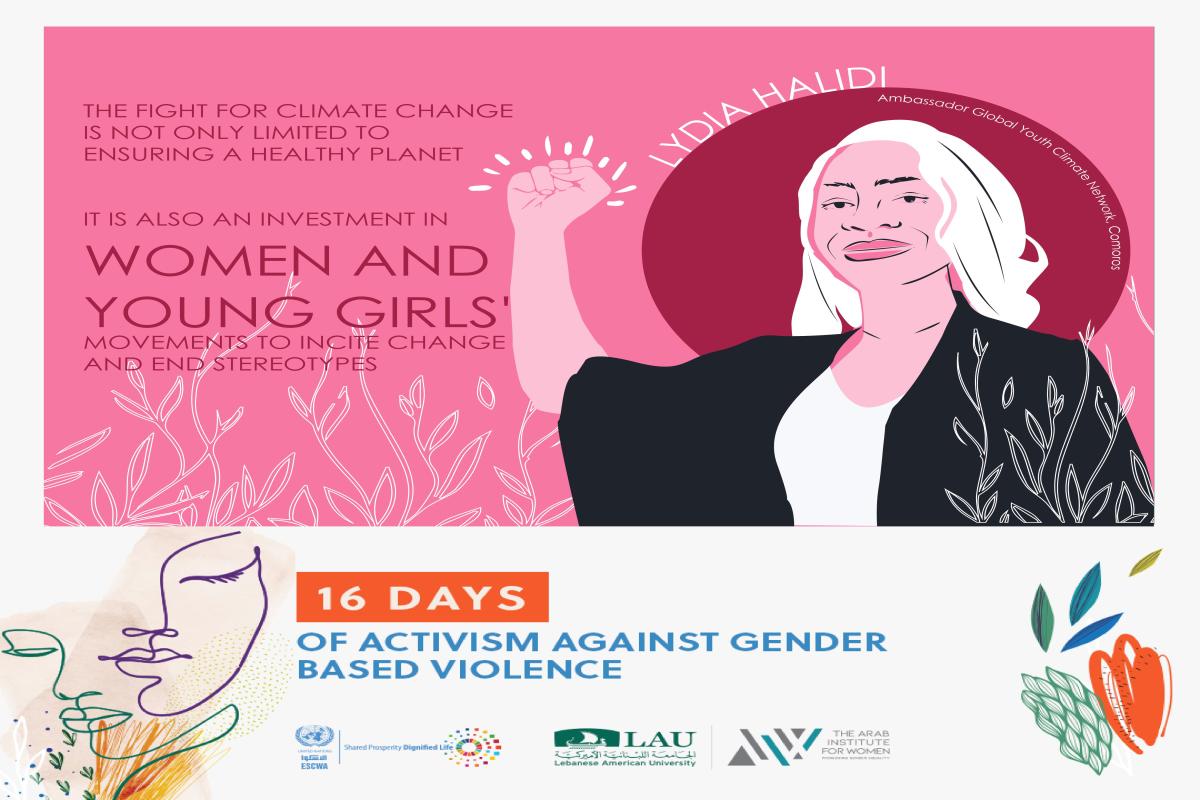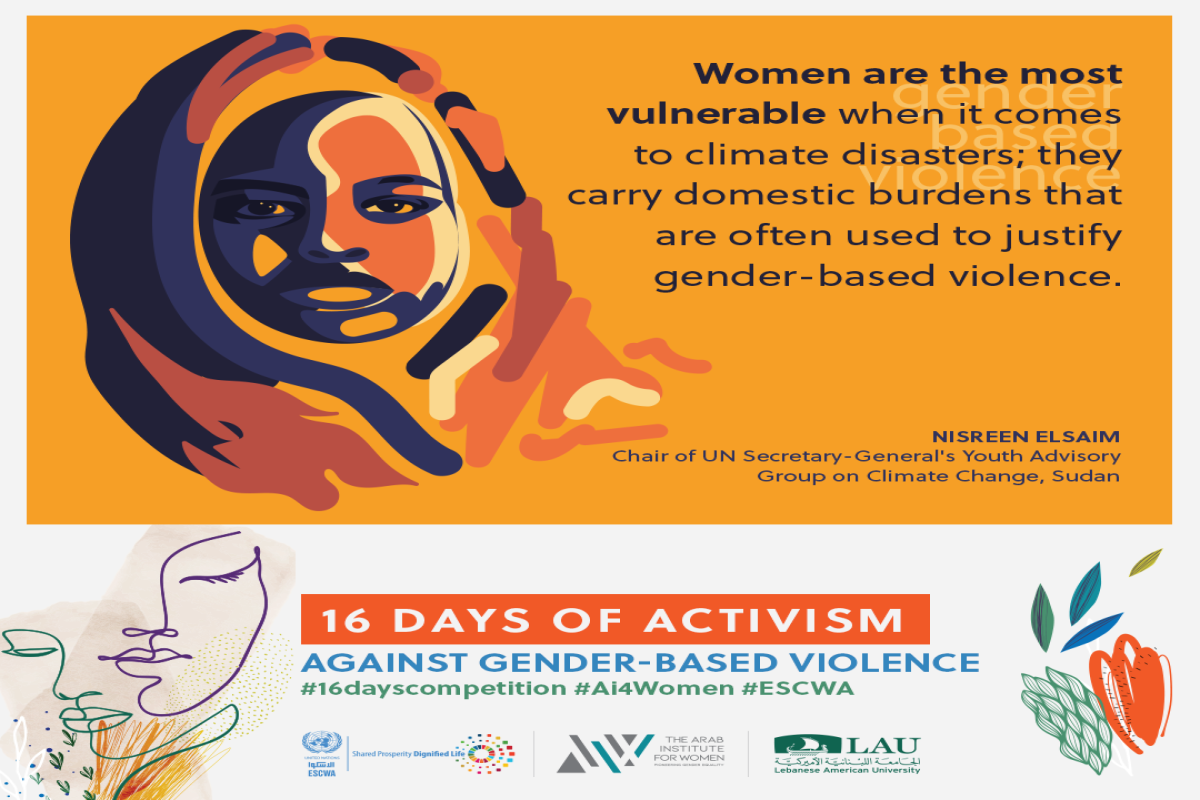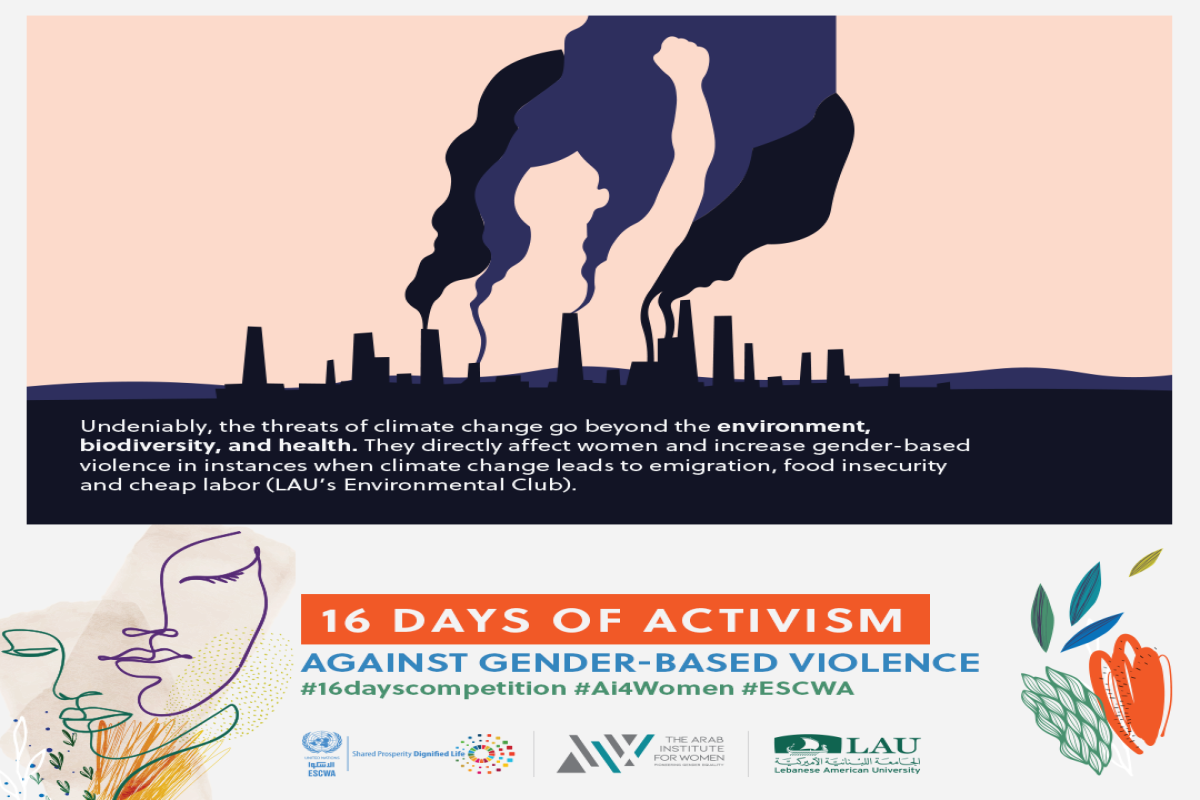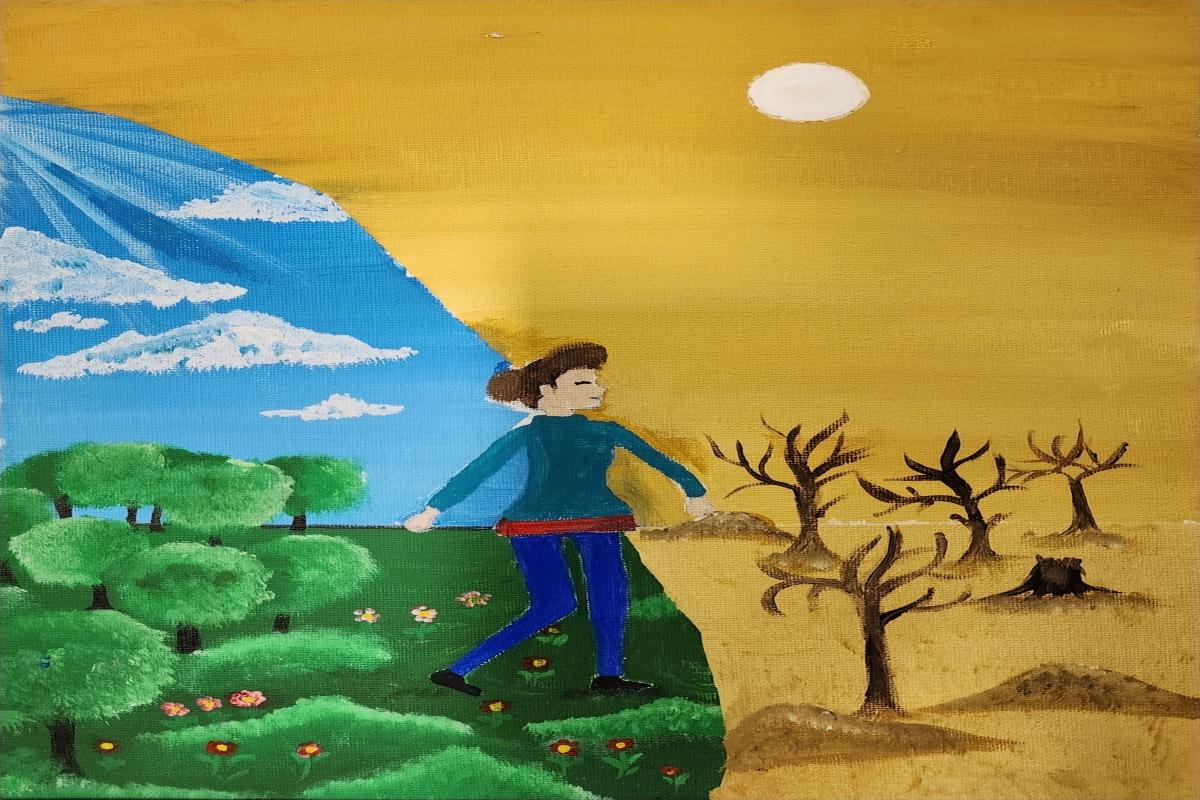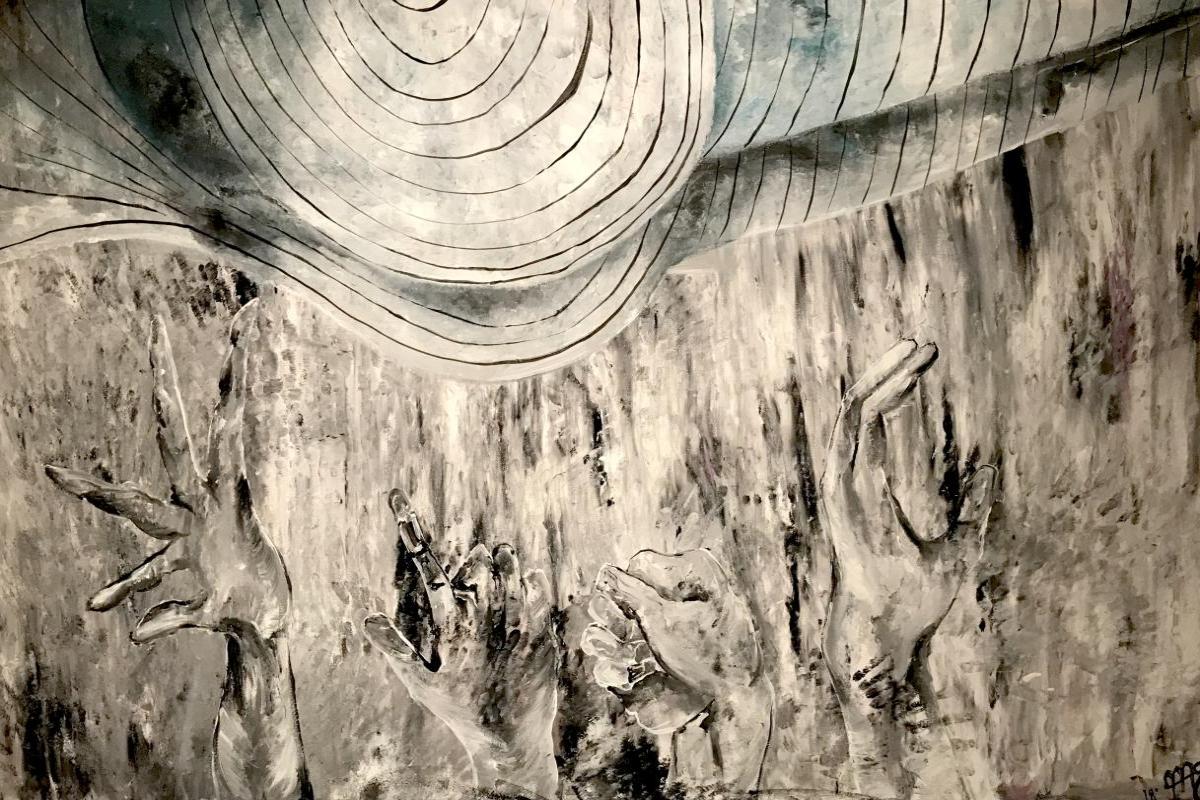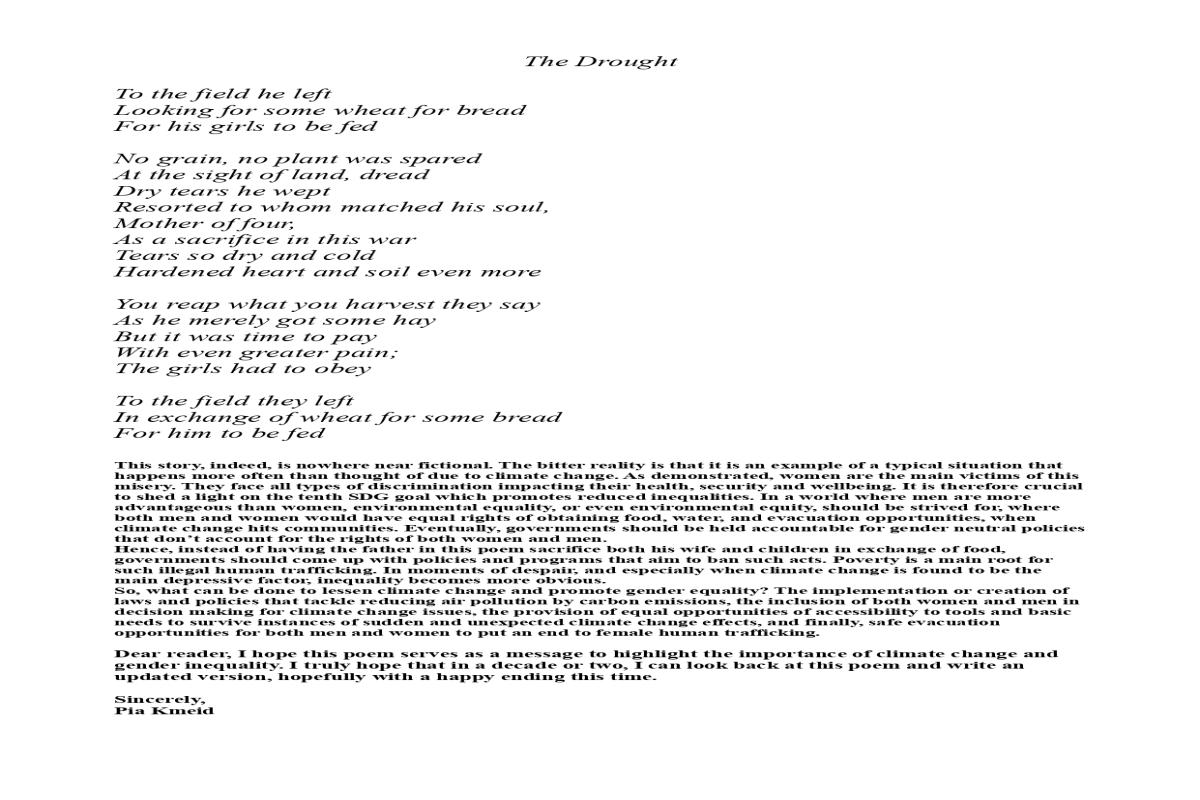 On December 8, 2022, The Arab Institute for Women (AiW) at the Lebanese American University (LAU), in partnership with UNESCWA, hosted the seventh edition of the yearly panel discussion, as part of the 16 Days of Activism against Gender-Based Violence. This year's edition was titled "Environmental Equality in the Arab Region", and it unpacked environmental activism, the disproportionate effects of climate change on women, and the essential role of women in mitigation and awareness raising.
In an opening word, Director of The AiW, Ms. Myriam Sfeir, welcomed the attendees, introduced the moderator (Abir Chebaro: Gender Expert and Consultant), the panelists (Amani Beaini: Legal Researcher and Environmental Activist, Joslin Kehdy: Founder and Director of Recycle Lebanon, and Noura Abdo: Founder of Our Climate, Egypt), and emphasized the significance of involving young scholars and students in the yearly campaign against gender-based violence.
Following Ms. Sfeir's word, Ms. Stephanie Chaban, Social Affairs Officer at UNESCWA, highlighted The AiW and UNESCWA's longstanding partnership, beyond this event, namely shedding light on the gendered impact of peace and security in the region, on women's legal status and access to justice, and on women's political and economic participation. Through a brief overview of the inherent relationship between gender inequality and climate change, Ms. Chaban underscored the importance of this year's theme. Then, to usher the discussion, Ms. Abir Chebaro explained the repercussions of environmental stressors on vulnerable groups and presented the direct and indirect effects of climate change on women and girls.
In the first intervention, Ms. Amani Beaini explained her role, and that of other women environmental activists, in opposing the Bisri Dam project. As she explained, despite recurring incidences of violence, women were very present during the protests and launched several campaigns to raise awareness about the ecological importance of the Bisri Valley. Their active involvement, she affirmed, was central to the success of the campaign. As Ms. Beaini argued, women's potent presence effectively fostered collaboration between activists and environmentalists to stop the Bisri Dam project.
Then, Ms. Noura Abdo highlighted the intersection between gender inequality and climate change and confirmed that the environment is a women's issue. On these lines, she emphasized the importance of raising awareness on the ways through which climate change affects the livelihoods of all human beings, especially women and girls. As Ms. Abdo explained, climate change has detrimental effects on many sectors and requires mitigation efforts to help women overcome associated challenges. Thereby, she suggested creating a professional Arab women's network which discusses pressing environmental challenges and deploys resources to find solutions.
Finally, Ms. Jocelyn Kehdy presented the role of many NGOs, programs, and initiatives, like "Recycle Lebanon", "Regenerate Hub" and "EcoSouk" in strengthening nature-based solutions and implementing macro alternatives to chronic environmental problems in Lebanon. Importantly, as part of the role of "Recycle Lebanon", like other organizations, in fighting gender-based violence, Ms. Kehdy presented the launching of many eco-friendly initiatives to support women. For example, she explained how EcoSouk, the Middle East's first Zero Waste Shop, in partnership with "Recycle Lebanon", developed reusable pads and diapers for women, girls and boys. These initiatives, among others, Ms. Kehdy explained, are crucial to encourage innovation and entrepreneurship and provide women with access to sustainable resources.
The panel discussion concluded with a short Q&A session.
This year, the competition attracted around 100 entries from a number of countries, including Egypt, Lebanon, Palestine, Syria, Iraq, Morocco, and Turkey, and included a wide variety of artistic pieces, such as paintings, poems and videos.
Winner of the 1st Place was a poem by Pia Kmeid from Lebanon, titled "The Drought".
Winner of the 2nd Place was a painting by Mariam Ghanem from Egypt.
Winner of the 3rd Place was a painting by Bayan Al Omar from Syria.
As for winners of the designed post cards:
Winners of the 1st Place were Lin Habbal and Rim Abdallah.
Winner of the 2nd Place was Jana Rahmoun.
Winner of the 3rd Place was Lea Tannir.
About The AiW and UNESCWA partnership:
Every year, as part of the 16 Days of Activism Against Gender-Based Violence global campaign, The AiW and UNESCWA hold a joint youth art competition under the general theme of "denouncing violence against women". Young people across the Arab region are asked to submit artistic pieces that reflect their own interpretations of denouncing and fighting violence against women, which can include various artistic forms, including written work such as poetry or prose and drawings. The competition provides a creative outlet for youth to express themselves about a topic that is still considered taboo across the Arab region, allowing them to participate in a global movement that might otherwise be difficult to access.